About the Animal Health Clinic
We are a family owned practice governed by Christian principles. Our Lakewood Ranch veterinary clinic was opened in September 2002. We chose Lakewood Ranch because we saw a great need in East Manatee for a veterinary clinic and we live in the area. Our clinic specializes in care for companion small animals - mostly dogs and cats.
Dr. Sookra practiced as a small animal veterinarian in the private sector and in the corporate world in Sault Ste. Marie and Bradenton. That coupled with his experience working at the Emergency Clinic in Sarasota gave him unique and valuable insights that he is constantly using at the Animal Health Clinic.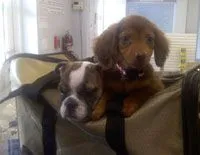 The underlying philosophy of the Animal Health Clinic is "caring for God's creatures". This philosophy guides every decision we make regarding your pet. We believe that we answer to the "Creator God", a higher authority than Man in all that we do. Your pet will always receive the best care we can give to them. If we are unable to provide the care your pet requires, we will recommend another hospital that can.
As a pet owner, you will always be treated with respect, compassion and understanding. We at the Animal Health Clinic will always carry out our duties with the highest level of honesty and integrity. We will always do what is best for your pet. When it is time to say goodbye to your beloved pet, we will strive to make this as painless as possible for both the pet and you, the owner.