Angelica – Veterinary Assistant
Angelica is originally from Ponce, Puerto Rico. She graduated from Southeast High School and lives in East Manatee with her family. Angelica has grown up around animals and always had a passion for learning about animal behavior and interacting with them.
When asked what she enjoys most about working at the Animal Health Clinic Angelica states "I enjoy the pets I get to interact with & I love and appreciate the people I work with. We are a family.
In her free time Angelica loves spending time with her family and dogs. She enjoys cleaning, movies and discovering new places to eat. She heads home after all the patient snuggles to her husband and their teens as well as 3 dogs; Turbo and Tesla both Goldendoodles and Mia a Pittbull mix.

---
Caleb – Veterinary Assistant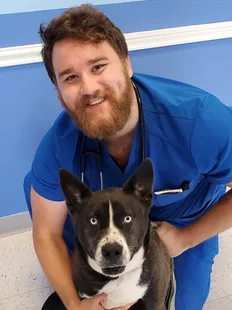 Caleb is originally from Ooltewah, Tennessee. He graduated from Chattanooga State University with his B.A in Psychology. Caleb's love for animals began at home with his family that raised and bred Golden retrievers.
When asked what he enjoys most about working at the Animal Health Clinic Caleb says " I love making a difference in the health and care of all the animals that come through our doors."
In his free time Caleb enjoys watching TV, cooking, working out and reading. After a day at the clinic and spoiling the pets here, Caleb heads home to his wife and their Lab/Husky mix Jade and their roommate's Dalmatian puppy Pippin.

---
Mariana – Certified Veterinary Technician

Mariana is originally from San Pedro Sula, Honduras. Her family moved to Bradenton and she graduated from Lakewood Ranch High School. She then went on to complete her CVT training at St. Petersburg College. Mariana has grown up with various types of animals and began working in a kennel and a technician prior to completing her education.
When asked what she enjoys most about working at the Animal Health Clinic Mariana says "I love working in a clinic that puts the needs of the patients and clients first."
In her free time Mariana enjoys drawing and painting, playing sports and being outdoors. After working at the clinic and cuddling all the pets here, she goes home to Achilles a Yorkshire terrier, Troy a Bichon Frise and Callie a Domestic shorthaired cat.
---